---
Raptor transport box
Recently bought this Hawk box, although I have several, I wanted this larger one. A bit pricey but worth it, well made and solid, and of course narrow enough as to not let the bird turn around.
Jason LeMay
Aug 3, 2022
Prompt & Supportive
I come to Mike's for all my gear. He ships amazingly fast, has great communication, and he is always supporting our meets with donations. Support the folks who support what you love. Thanks Mike!
Sabrina Serna
Jul 3, 2022
Outstanding Customer Service!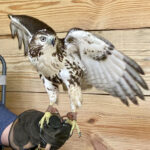 Mikes falconry is the only company I will ever use for my Falconry needs. They are very responsive and take care of you no matter what. They seem to really want to help and get you what you need promptly. I have spoken with Mike on several occasions and he seems like such a great
…
person! They answered the phone on a Saturday and even took the time out of their day to stick something in the mail for me that day, not during normal business hours at all! They have also modified several orders for me along the way and they make it right no matter what! Thank you for outstanding customer service and everything you do to help keep us and our birds happy! "Curtis" is very thankful for you all!
Dewey Sherrer
Dec 5, 2021
Very Prompt
Mike's Falconry had exactly what I needed and notified me immediately with tracking information on my order. I didn't have to hassle with a vet for the medication needed for my winged friend, so it was reassuring that I could get them the care needed very quickly. I would highly recommend them for any of
…
your winged friend needs! I will for sure be using them again in the future instead of trying to get what I need elsewhere.
Jennifer Biamont
Nov 1, 2021
Review: Falcon Fiber: Feather imping kit for small raptors
If you want the best possible tools for imping small raptors like aplomados, sharpshins or merlins; this is it! The fibers are perfectly consistent in thickness and most importantly flexibilty. Over the years I have imped with bamboo, fiberglass, carbon fiber, spring steel and feather shafts. Falcon Fiber is superior to everything. The fiber material
…
and provided glue remain flexible when dried, retaining the natural spring of the quill. The reamer sizes match the fibers diameter exactly, this makes it easy to do a perfect job every time. Imping done with traditional materials (bamboo, fiberglass etc.) can all be done so the repaired feather looks right on a standing bird. The moment the bird begins flying the flexibility problem is obvious. Falcon Fiber completely solves this with a natural bend and flex that one sees in a natural perfect feather. Great tool!
Read more "Review: Falcon Fiber: Feather imping kit for small raptors"
Mike McDermott
Jul 30, 2021