Great service
I've ordered 2 times of Mike's falconry , both times mike has taken the time to talk to me to answer questions that I have had , both times I have been happy with the service and quality of products. I can't believe the speedy shipping, I ordered telemetry, I hope I never have to
…
use it , it came in the next day .
All around top notch , two thumbs up
Glenn
Oct 8, 2022
Amazing service (fast, amazing quality, more than reasonable price)
I am not a falconer (yet) but I wanted to explore that route and so, I was looking for books about falconry. One recommended book was "The Red-Tailed Hawk".
I looked on the classic online book retailers (amazon, …) and the price of the book was just insane ($200+). So, when I found mikesfalconry.com,
…
I was a little skeptical considering the price was 5 times lower. I ordered the book around 10pm (9pm in Oregon) or so. The next morning around 6am (5am in Oregon), I received a message that the book was shipped and I had a tracking number. Absolutely mind blowing.
The book arrived on time and was in perfect condition, wrapped in a plastic shipping bag and over it, a cardboard shipping package. No way that book could have been damaged.
So, absolutely premium service and dedication to their customer.
Thanks for everything, I am definitely coming back if I need more books or if I start the journey of becoming a falconer.
Read more "Amazing service (fast, amazing quality, more than reasonable price)"
Alain Poncelet
Sep 18, 2022
Raptor transport box
Recently bought this Hawk box, although I have several, I wanted this larger one. A bit pricey but worth it, well made and solid, and of course narrow enough as to not let the bird turn around.
Jason LeMay
Aug 3, 2022
Prompt & Supportive
I come to Mike's for all my gear. He ships amazingly fast, has great communication, and he is always supporting our meets with donations. Support the folks who support what you love. Thanks Mike!
Sabrina Serna
Jul 3, 2022
Outstanding Customer Service!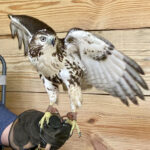 Mikes falconry is the only company I will ever use for my Falconry needs. They are very responsive and take care of you no matter what. They seem to really want to help and get you what you need promptly. I have spoken with Mike on several occasions and he seems like such a great
…
person! They answered the phone on a Saturday and even took the time out of their day to stick something in the mail for me that day, not during normal business hours at all! They have also modified several orders for me along the way and they make it right no matter what! Thank you for outstanding customer service and everything you do to help keep us and our birds happy! "Curtis" is very thankful for you all!
Dewey Sherrer
Dec 5, 2021