If you're thinking about trapping your first bird, you will want to be sure that you have all of your trapping equipment ready and of course your trapping and falconry permit in hand with you at all times. Besides these things you will want to be sure to have all of your tethering supplies such as your anklets, setting pliers and grommets, jesses swivel and leash and glove. Along with maybe a basic trapping hood and a pair of protective gloves too. Once you've determined the species of bird you want to trap and you've got the appropriate trap you will then want to contact your sponsor. Your sponsor will offer much help with using this trap and showing you the safest place to set the trap when trapping your bird.
Keeping the bird safe from harm is of utmost importance and today's traps make it possible to trap a bird while doing it no harm. Bird traps should be weighted so the bird can't carry the trap away from you easily. That said, it should "give," too, so it won't injure the bird. Trap weights need to be appropriate for the type of bird you're wanting to trap.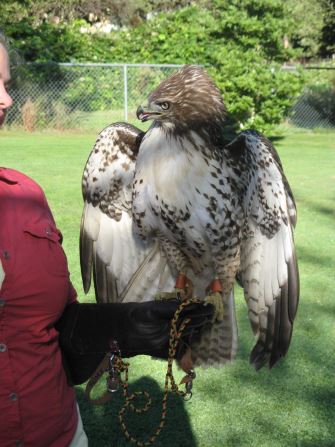 You'll need bait to lure the bird into the trap. Mice, Rats, Gerbils and Sparrows work well for the BC or Bal-Charti traps. For the Pole mist net traps use Sparrows, Starlings and Pigeons work best. The more they move around, the more attention they'll attract to your trap.
Mike's Falconry Supplies offers several traps that will help you in endeavor, regardless of your experience level.
The 5008 Bal-Chatri Noose Trap (Red Tail Size) works well for trapping Red Tail hawks and American Kestrels. Made in a rectangular dome style with a double dome wire wall to keep mice (or other animals) from chewing up the nooses, the BC Trap comes with at least 50 nooses painted gray or tan to take off the glare. It's quite durable.
If you need a large Ring Padam Noose Trap with a 23-inch diameter sing, Mike's Falconry Supplies offers that, too. With overlapping nooses and a pinch string at the bottom to hold the nooses in place in a high wind, the Ring Padam 23-incher works well for trapping Goshawks, Red Tailed hawks, falcon, and Great Horned/Snowy Owls.
Complete Mist net pole traps can also be used to trap man different sizes of hawks or falcons too.
As well, Mike's Falconry Supplies offers durable net traps that are easily adjustable to ensure it can fit many pole trap sizes. These net traps will surely come in handy when you're trying to trap falcons or hawks.
If you need help selecting the right supplies to trap your hawk or falcon, contact Mike's Falconry Supplies at sales@mikesfalconry.com or call us toll free at 888-663-5601.